Zero Carb Pizza Crust Recipe?
Before changing my way of eating to keto, I ordered from pizza places at least once a week. There was nothing better than a thin crust cheese pizza with extra sauce; it was a euphoric experience. This routine was quickly dropped and sadly missed upon starting keto.
Like you, I've tried many keto pizza crust recipes: cauliflower, fat head dough, canned chicken, skillet, pork rind etc. The recipes I tested never quite fit the bill and I learned real pizza was hard to replicate. Until this zero carb pizza crust recipe!
This crust is hands down the best (and easiest) keto pizza crust recipe to make. This recipe is versatile and can be easily customized. Plus, this pizza crust is 0 carb!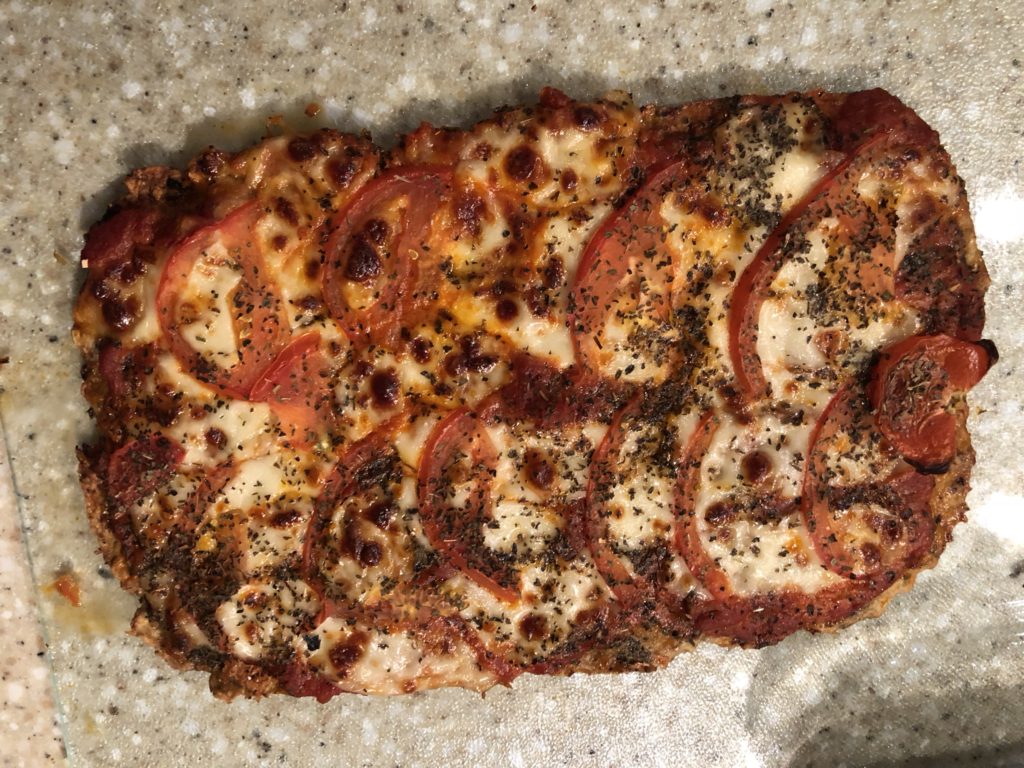 Crispy Crust Creation
Crust is undeniably the most important aspect of a pizza. Think of crust as the foundation for a great pizza; any small flaws can take the entire pizza south, fast. Luckily, this keto pizza crust is perfect (this might be slightly subjective).
After testing a few variations with ground turkey, ground chicken and ground pork, I found the ground chicken version to be my favorite. Ground chicken packs more flavor than ground turkey, but is not as heavy tasting as ground pork. Since you're working with ground meat, this keto pizza crust holds together very well without eggs.
To achieve a crispy texture, you'll bake this crust for what seems longer than necessary. If you don't bake the crust until crisp, you'll end up with a softer texture similar to a chicken burger. Which might be great for those wanting a less crispy crust.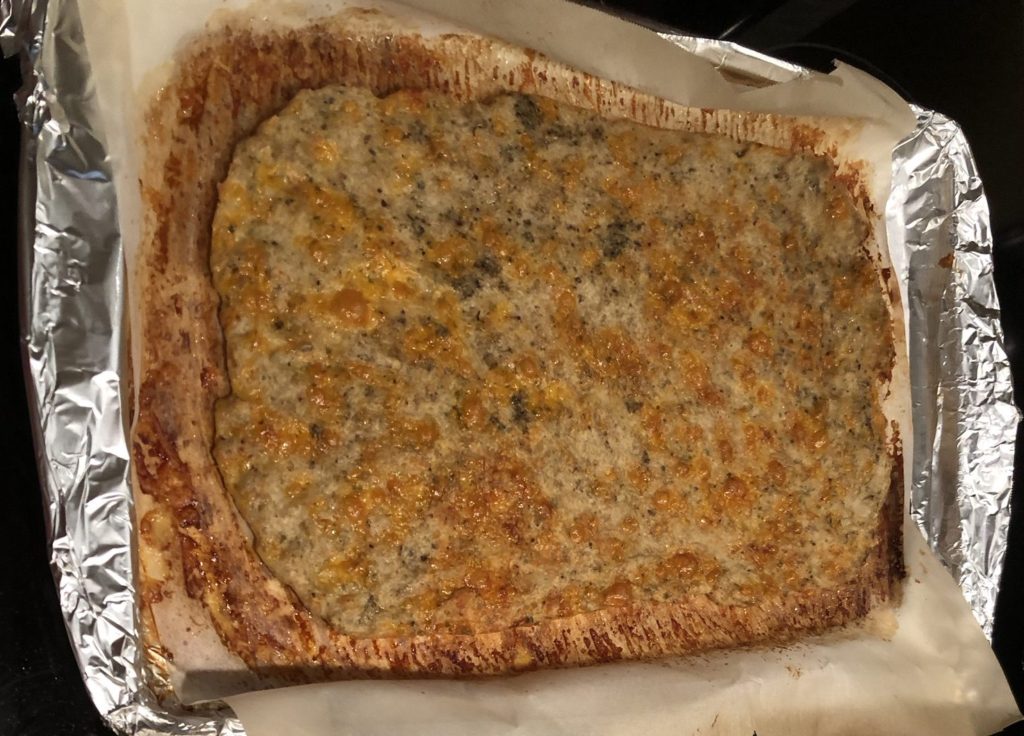 Crust Spices & Cheeses
Spices used in this recipe can vary depending on what type of pizza you're making. I was going for a more traditional flavor, so I kept spices simple: Italian seasoning, salt & pepper. You can add crushed red pepper and garlic to this recipe for additional flavor and heat.
I incorporated sharp cheddar and grated parmesan cheeses into the crust. Including cheeses in the crust mixture helps add fat and creates a better-flavored crust. If you don't have cheddar or would prefer to use a different cheese blend, go for it! Use what you have on-hand.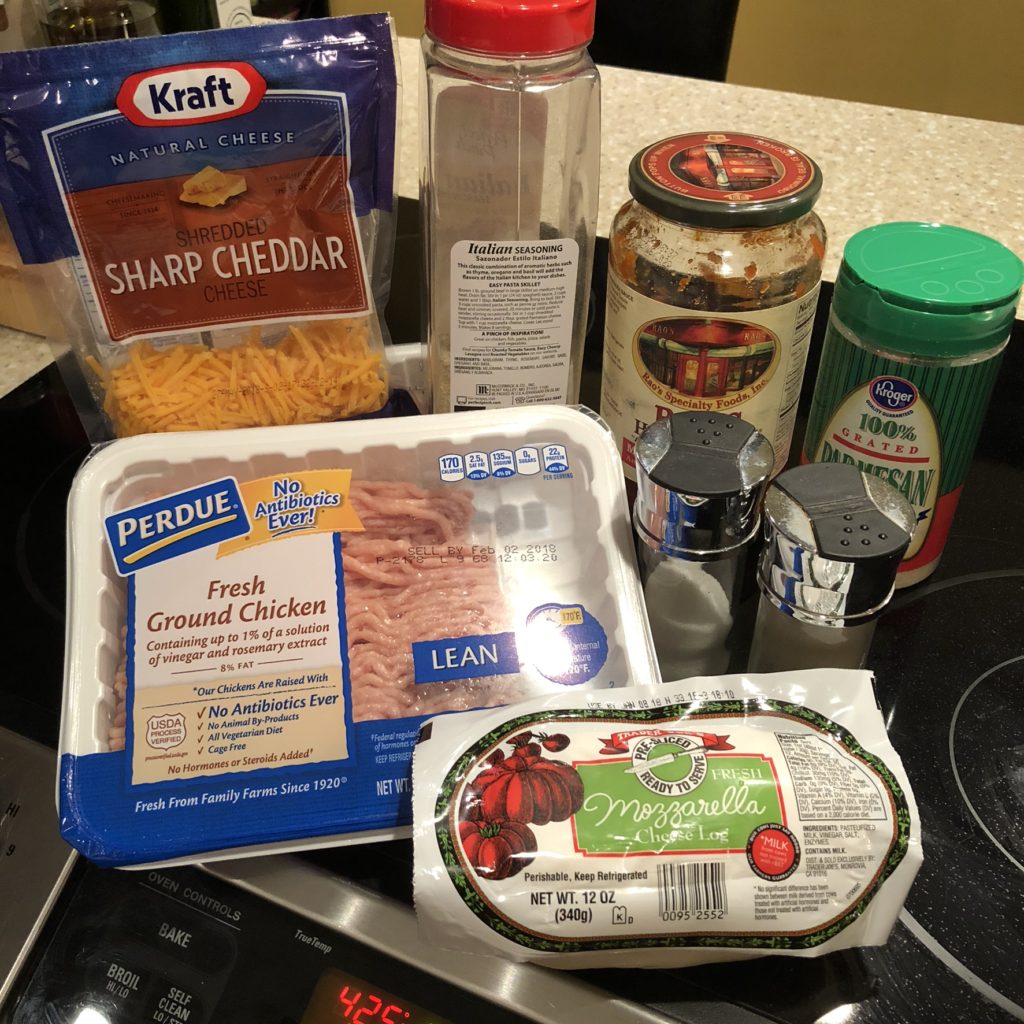 Toppings
Like the cheeses and spices used to create the crust, toppings are completely up to you. I will say this: be mindful of what you use and look for hidden carbs. Many food items contain sugar as an ingredient, which adds trace carbs.
When choosing your pizza sauce pay attention to the sugar content. Most pizza sauces and marinara included 10-20g added sugars per ½ cup, which will completely derail your keto diet. When I don't have time to make my own marinara, my go-to is Roa's Marinara – only 3 net carbs per half cup.
For the pizza pictured, I topped with marinara, Trader Joe's mozzarella and an on-the-vine tomato.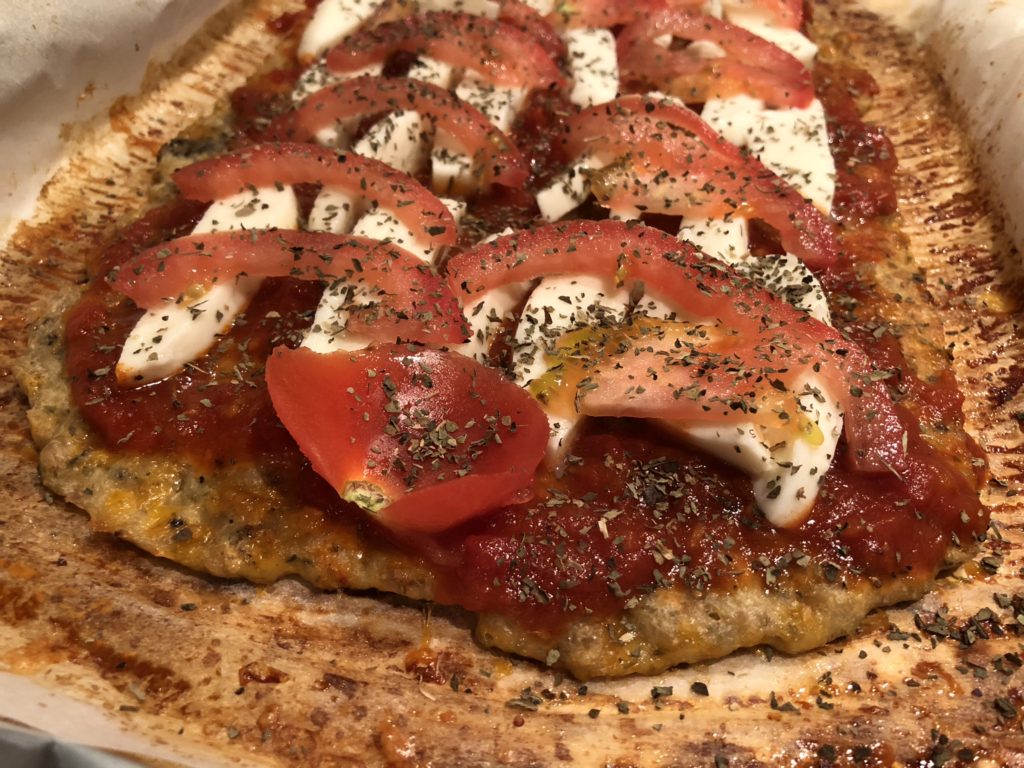 Pro Tip (Optional)
Want to add a little extra fat and flavor to this recipe? Brush with olive oil directly after removing from the oven!
Nutrition Per Serving
Calories: 296.5
Fat: 20.25g
Protein: 29.5g
Carbs: 2g
Fiber: 2g
Net Carbs: 0g
#PizzaTime
This keto pizza crust is flavorful, crisp and holds up after adding toppings. What are you waiting for? Get to cooking!

Never Miss A Recipe!
Join our email list to receive:
The latest keto recipes
Keto diet tips
Keto product reviews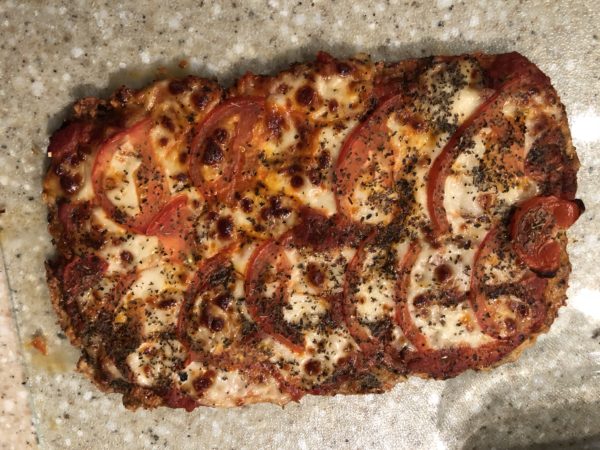 1

lb

ground chicken

1/2

cup

Parmesan cheese

1/2

cup

shredded cheddar cheese

1

tbsp

Italian seasoning

1/4

tsp

salt

1/4

tsp

pepper
1

lb

ground chicken

1/2

cup

Parmesan cheese

1/2

cup

shredded cheddar cheese

1

tbsp

Italian seasoning

1/4

tsp

salt

1/4

tsp

pepper
Line a baking sheet with tin foil and parchment paper

Add cheeses and spices to ground chicken and mix

Form a log shape, place on baking sheet and spread evenly

Bake at 425 for 35 minutes. This will create a nice crispy crust

Optional: brush crust with olive oil immediately after removing from oven

Add your favorite pizza sauce and toppings; bake for another 10-12 minutes (until cheese is visually appealing to you)
This no carb pizza recipe is crispy and delicious! It definitely solves my thin crust pizza cravings!