Low Carb Bacon Cheeseburger Casserole
Who loves (and misses) a good cheeseburger? Before keto, there was nothing better than a nice, juicy burger on a carby bun (with fries)! But living in this post-carb world we've eliminated bread from our diet, so now what? Make a casserole to as a delicious, easy alternative to your burger cravings! Try this recipe for a complete one-dish meal to feed your entire family tonight (with leftovers!)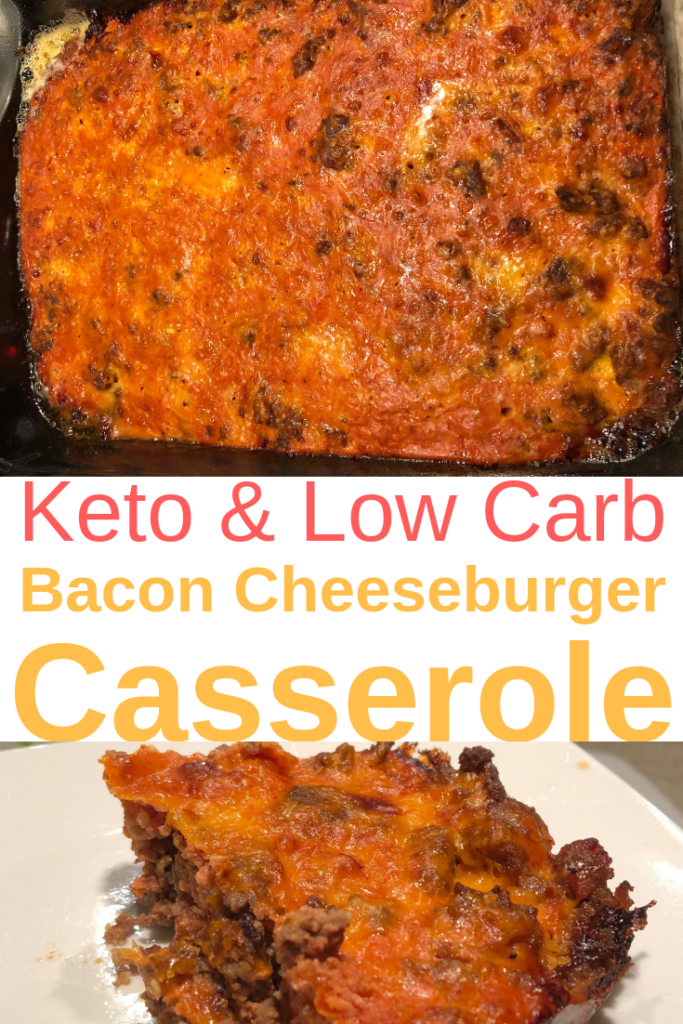 Got Filling?
This recipe calls for quite a few ingredients, but don't let that overwhelm you. The filling (and sauce) comes together quickly and is very easy to make.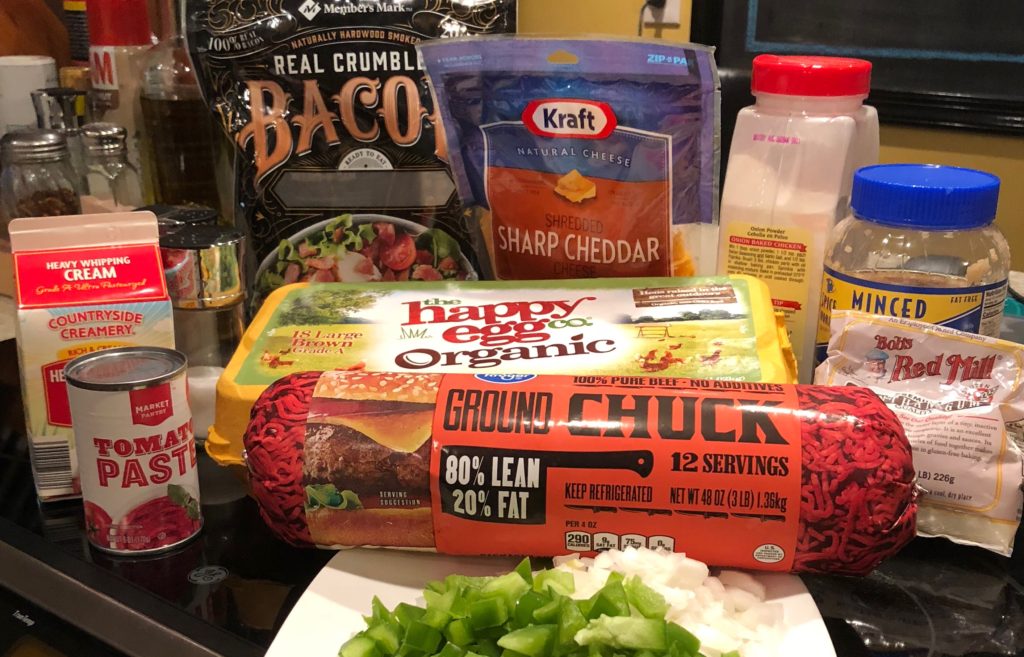 The filling for this casserole is flexible and easily customizable. You can add or remove any recipe element to suite your taste buds. I like peppers, onions and garlic, so that's what I used. Fresh green pepper and onions, along with minced garlic (from a jar). Sometimes I add pickled jalapenos and relish to spice it up.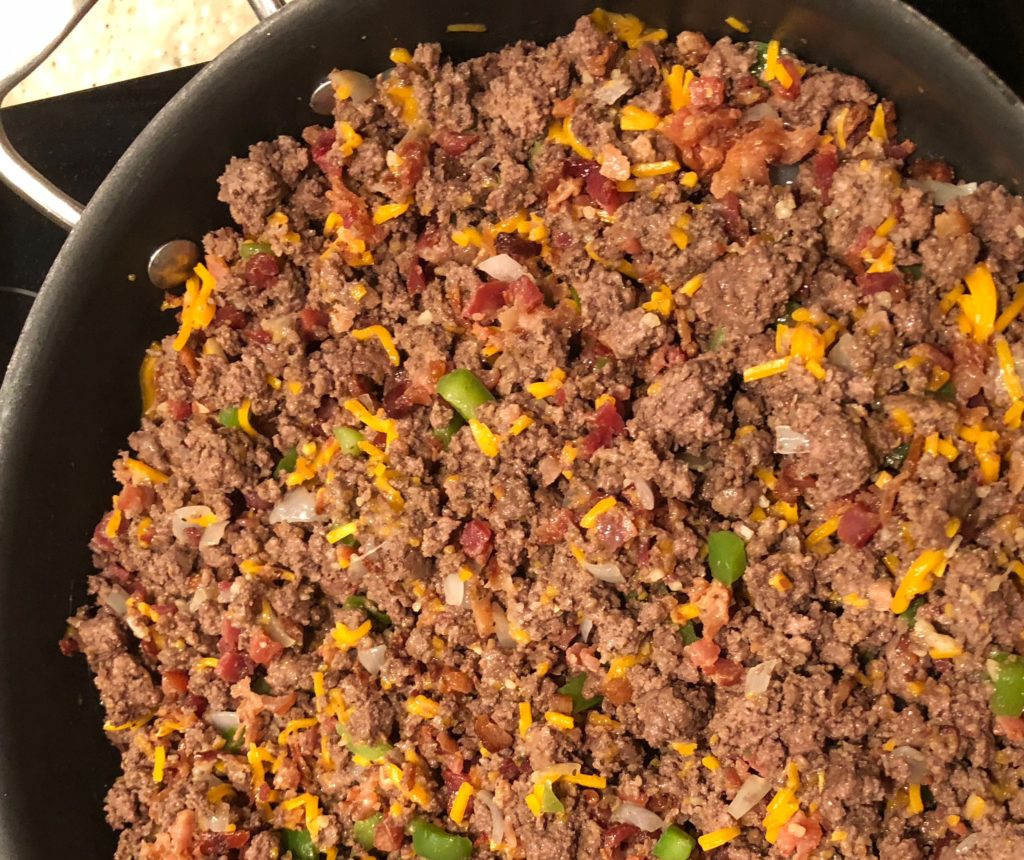 You can eliminate the onions by using onion powder (see recipe notes below). Additionally, be mindful of type of relish you use – be certain it's unsweetened.
For the bacon and cheese, add this after you've cooked the meat thoroughly and drained it.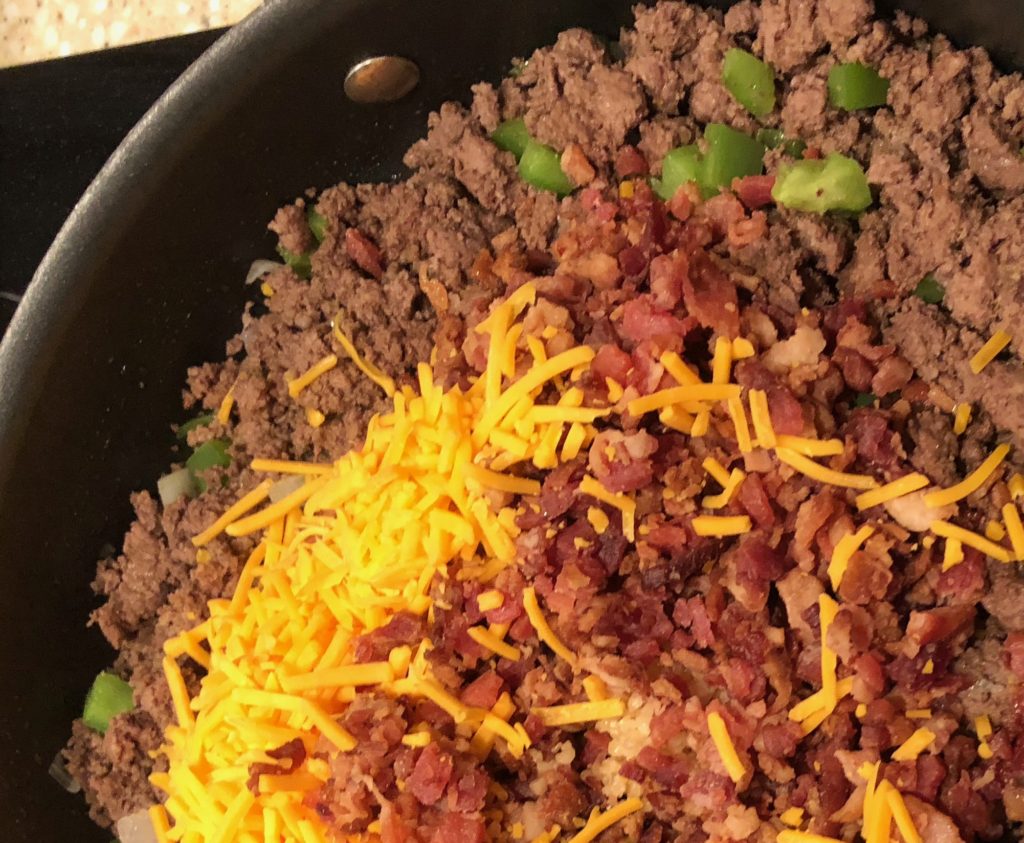 Toppings
So like I mentioned in the opening content, I really enjoyed burgers with a nice, white bun. Is this recipe an exact substitute for a bun? Certainly not. What this recipe is, however, is a very satisfying alternative.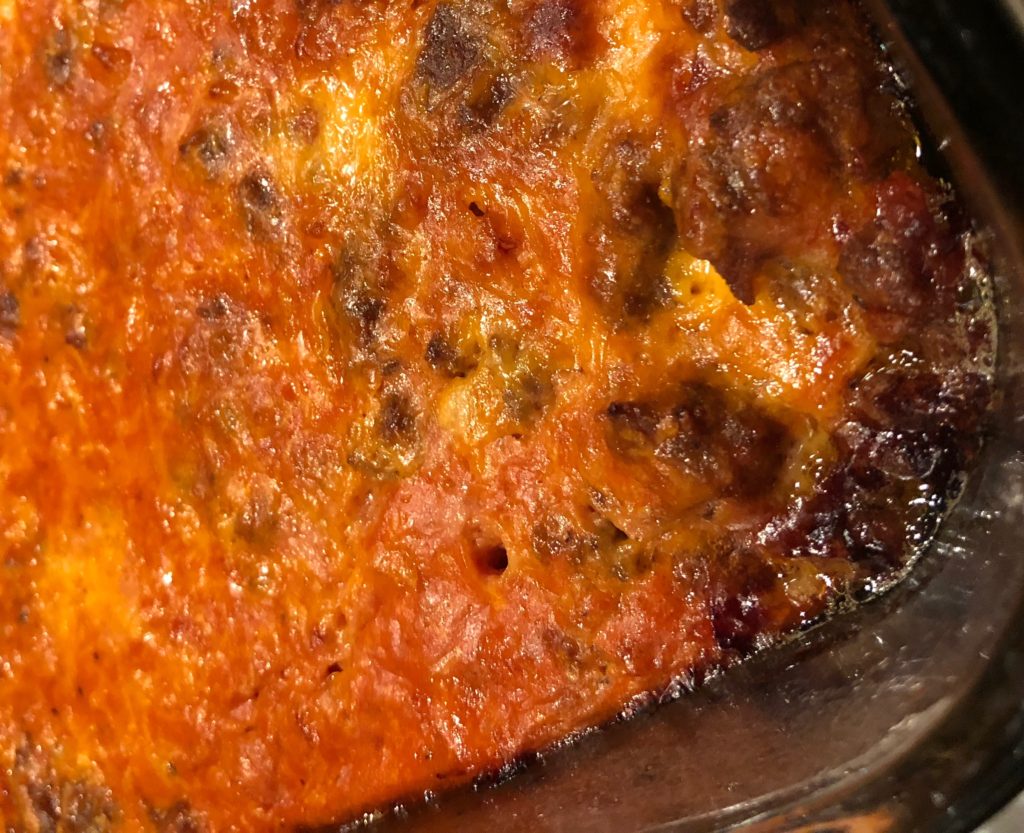 The topping I developed for this recipe went through a few different variations, each with different amounts of eggs, xantham gum, tomato paste, heavy cream and water. The final recipe result I went with creates a firm yet spongy top layer on top of the beef and veggie mixture, somewhat mimicking the texture of a bun from a juicy burger.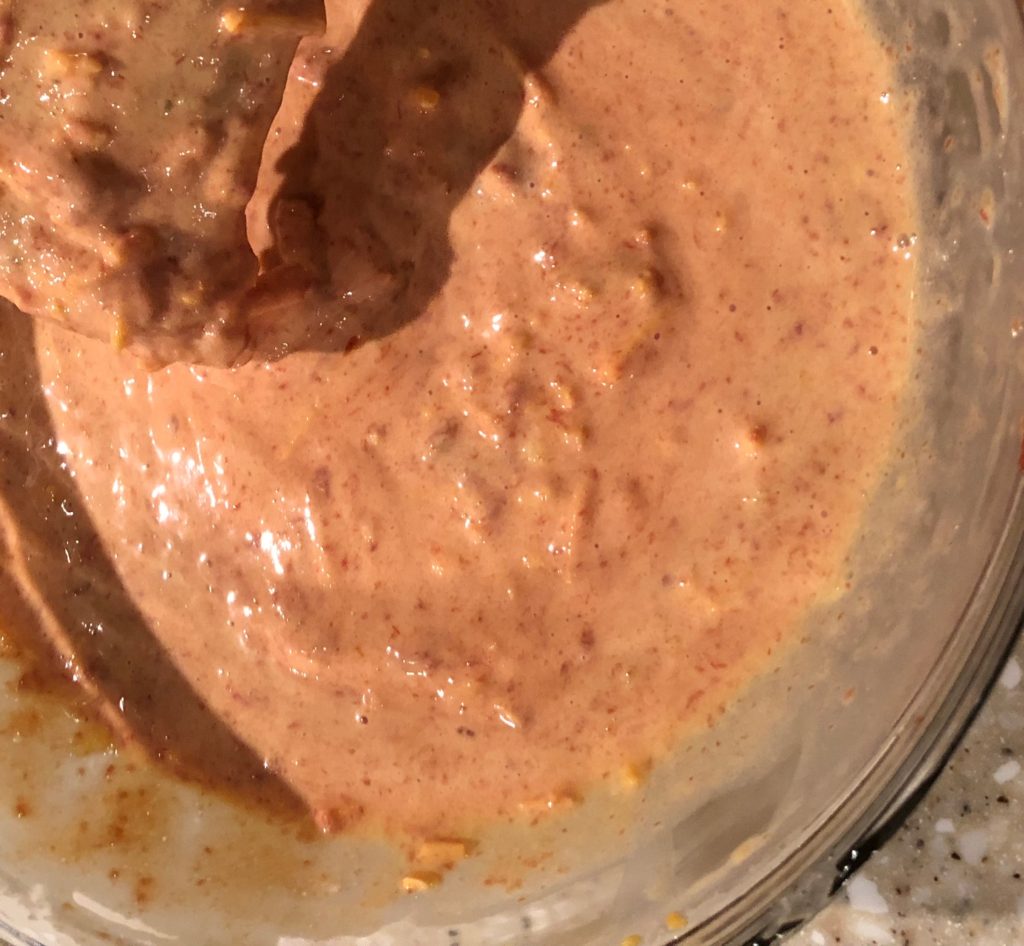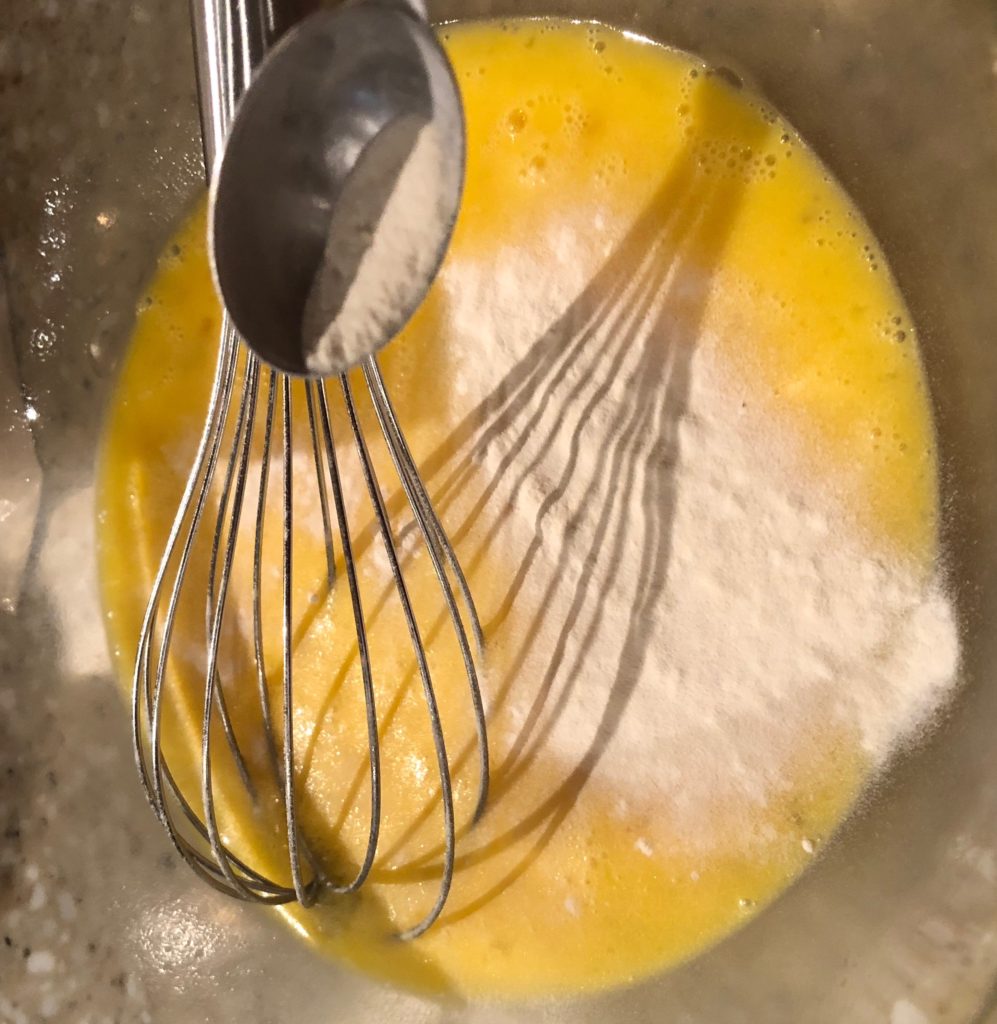 Follow The Recipe!
I do not recommend making and changes to the topping portion of this recipe – please follow exactly.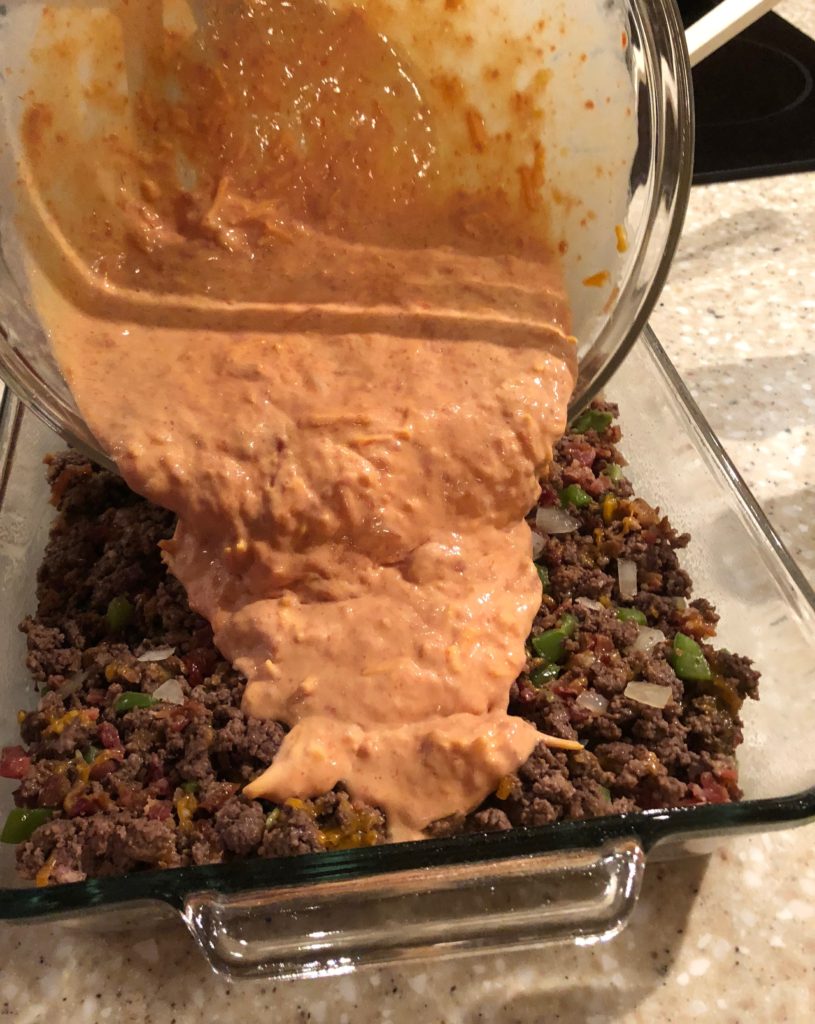 Recommended Ingredients
Generally I like to use free range eggs and organic grass fed beef. HOWEVER, this is not always possible due to budget and scheduling constraints (we're all busy!). For this recipe I used organic eggs, traditionally farmed beef, and traditionally grown vegetables.
What Condiments To Use?
Honestly, this recipe is awesome by itself and can eaten without any additional condiments. But sometimes I like to use my favorite sugar free ketchup, a little mustard and tablespoon of mayo – this makes your slice of casserole the ultimate cheeseburger experience!
Nutrition
Nutrition Per Serving
Calories: 511
Fat: 38g
Protein: 31g
Carbs: 8g
Fiber: 2g
Net Carbs: 6g
Notes: reduce carbs by cutting (or eliminating) the amount of onions and peppers used in this recipe
Never Miss A Recipe!
Join our email list to receive:
The latest keto recipes
Keto diet tips
Keto product reviews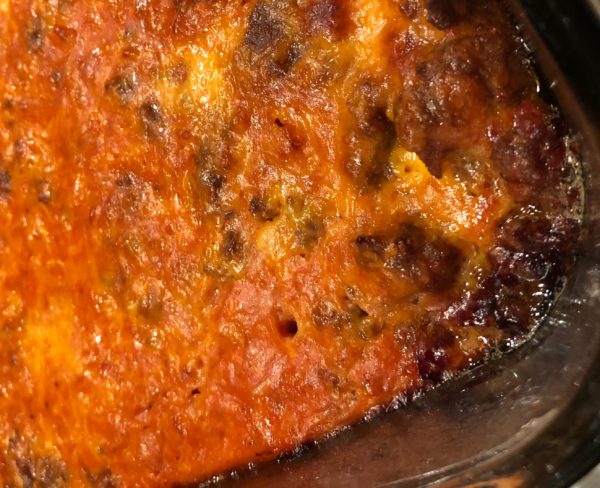 2

pounds

ground beef

2

cups

chopped green pepper

3/4

cup

chopped white onion

if not using onion powder

1/2

cup

unsweetened relish

optional

1/2

cup

pickled jalapenos

optional

1

teaspoon

onion powder

if not using fresh onions

1

tablespoon

minced garlic

from jar

3/4

cup

precooked bacon crumbles

1/2

cup

shredded cheddar cheese
6

medium

eggs

2

teaspoons

xantham gum

3/4

cup

tomato paste

3/4

cup

heavy cream

1/4

cup

water

1/4

teaspoon

salt

or salt to taste

1

cup

shredded cheddar cheese
2

pounds

ground beef

2

cups

chopped green pepper

3/4

cup

chopped white onion

if not using onion powder

1/2

cup

unsweetened relish

optional

1/2

cup

pickled jalapenos

optional

1

teaspoon

onion powder

if not using fresh onions

1

tablespoon

minced garlic

from jar

3/4

cup

precooked bacon crumbles

1/2

cup

shredded cheddar cheese

6

medium

eggs

2

teaspoons

xantham gum

3/4

cup

tomato paste

3/4

cup

heavy cream

1/4

cup

water

1/4

teaspoon

salt

or salt to taste

1

cup

shredded cheddar cheese
Brown beef until about half cooked, add in garlic, onions and peppers; add OPTIONAL relish and or jalapenos; continue cooking until browned

Drain excess fat from pan; combine bacon and cheddar cheese with beef and veggie mixture; stir thoroughly in pan

Coat 11x15 baking dish with non-stick cooking spray; spread beef and veggie mixture in dish
Combine eggs and xantham gum in mixing bowl; mix using either a whisk or hand mixer (hand mixer generally works better when cooking with xantham gum)

Add tomato paste, heavy cream, spices and water into mix; continue stirring with spatula or hand mixer to combine

Add in bacon and cheese; stir until evenly combined

Top your beef and veggie mixture with sauce

400°F for 20-30 minutes; until top layer has a nice crispy crust appearance

Top with your favorite low sugar ketchup or side of mayo
Our ultimate bacon cheeseburger casserole is the perfect dish for your whole family (with leftovers!)