#KetoPizzaGoals
At any given time I am thinking about pizza or planning the next time I'll be cooking one.
If you're on a keto diet and dream of pizza at least twice a week, you're not alone! Prior to going strict keto, pizza was my favorite meal. And it still is. Unfortunately, as we all know, carbs are the root of all dietary evil, so once I went full-on keto finding a pizza solution was my top priority.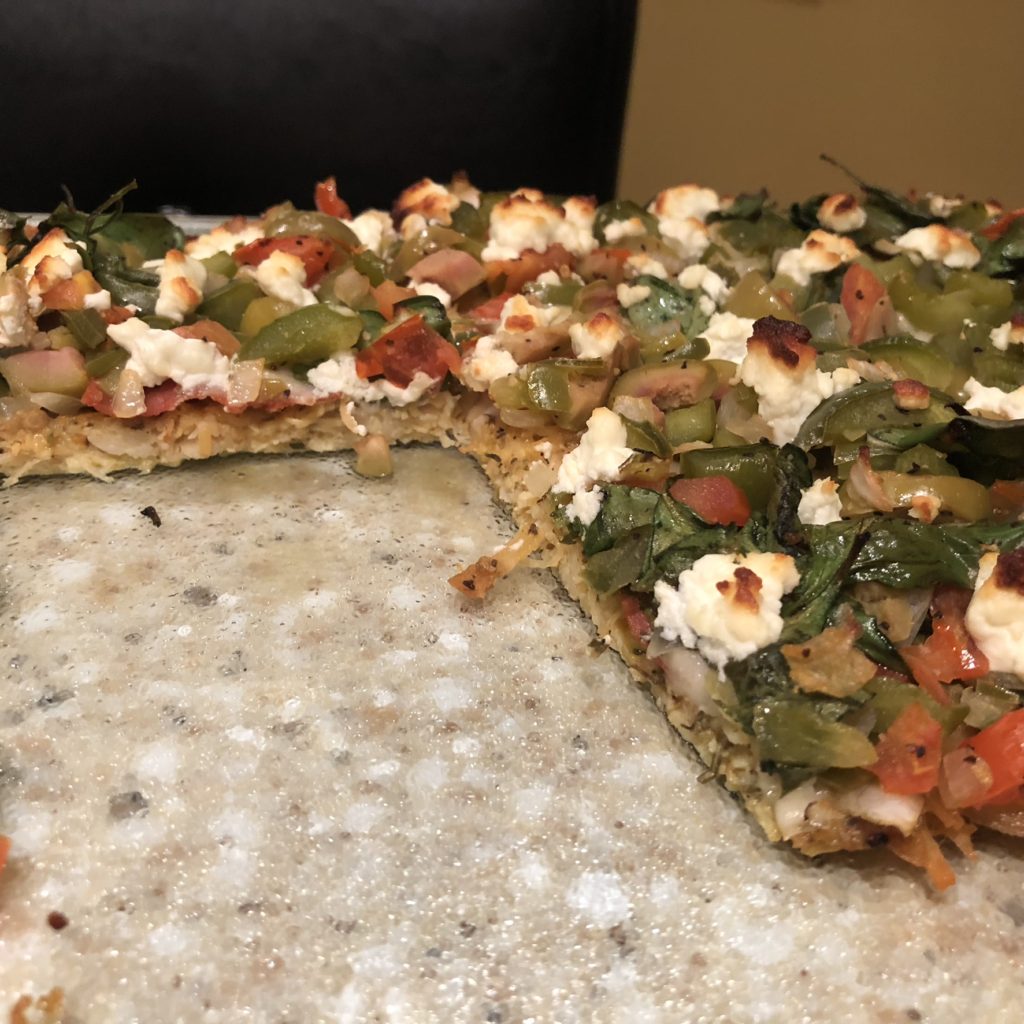 Pizza Obsessed
Of course, there are different styles of pizza. You've got Chicago, Sicilian, New York, deep dish, crispy thin, pan crust etc. Mastering each pizza style is an extensive cooking process; but lucky for you, food bloggers exist! We do the recipe research and development to help you find keto-fied verisons of your favorite foods!
Naturally one of the first pizza crusts I wanted to master was some form of deep dish. But what would the crust consist of? How would it fit into a keto or low carb way of eating? After a bit of planning, trial and error, I've developed version 1 of our deep-dish pizza recipe. I say version 1 because there will likely be multiple variations of each crust style as this blog progresses over time (due to pizza being my one true food love).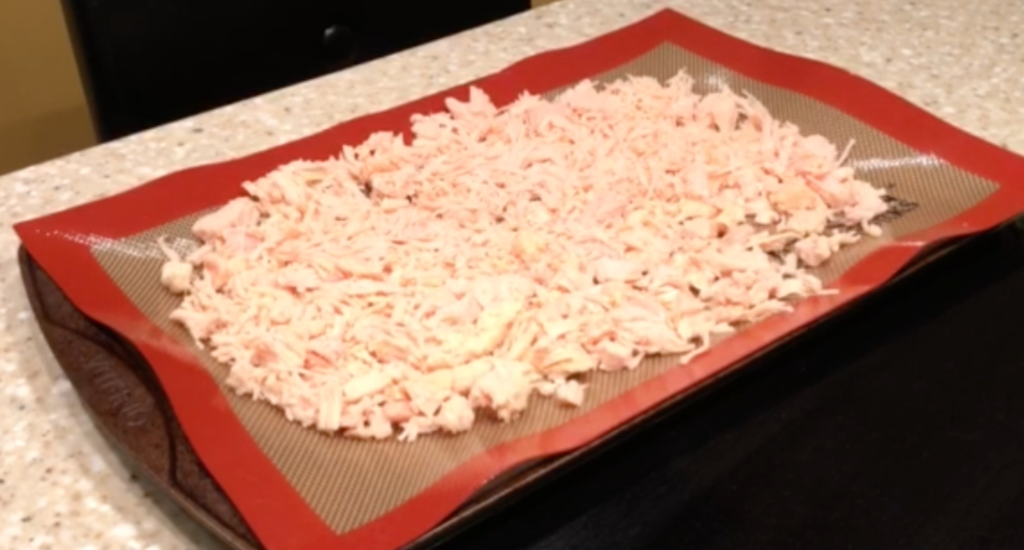 Zero Carb Pizza Crust
This zero-carb deep dish-pizza crust recipe is perfect for getting your pizza fix while staying on track with your low-carb ketogenic diet. With only a few ingredients, this quick crust recipe is perfect for pizza and movie night – just add your favorite toppings!
Why Chicken Crust Pizza? I've been on a keto diet off and on for the past 15 years, and have definitely tried my fair share of recipes (especially pizza recipes). While traditional pizza crust can be difficult to translate into keto, chicken crust recipes can take pizza to another level if cooked correctly.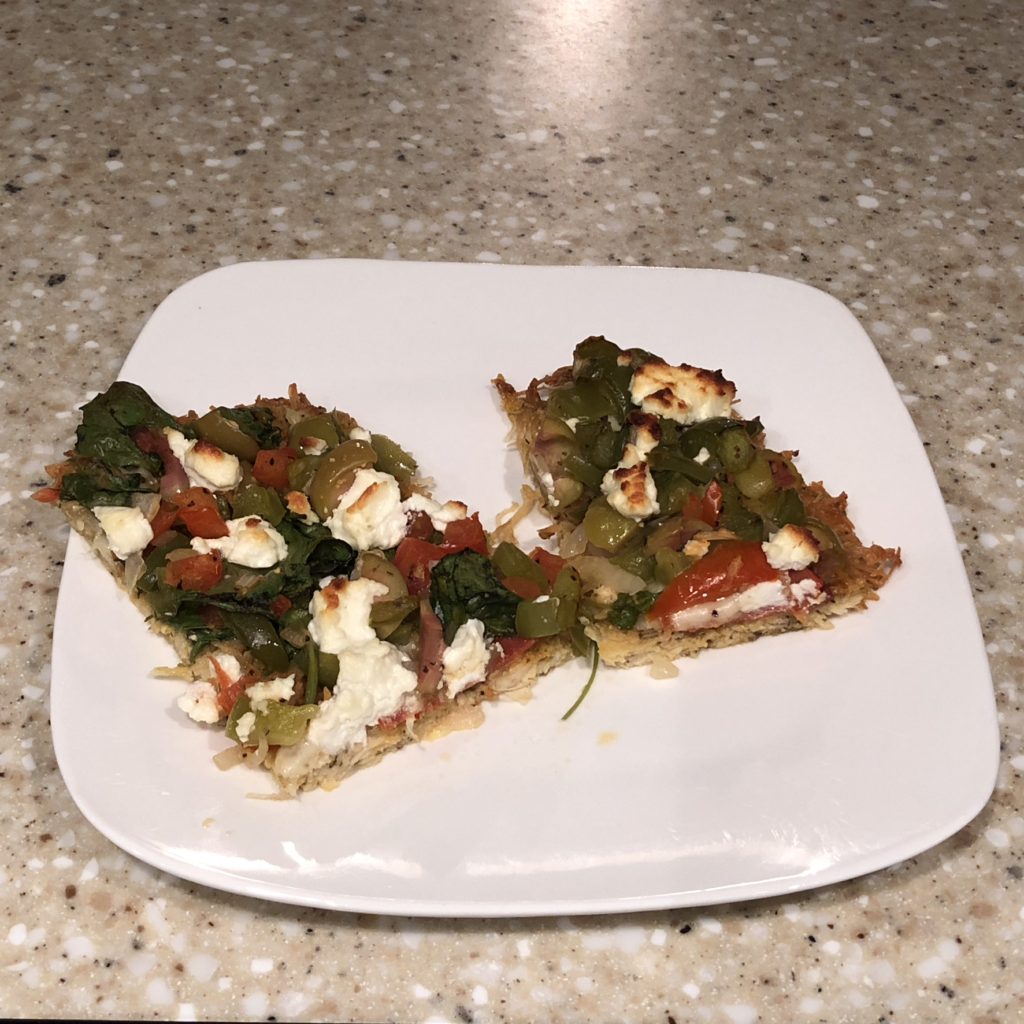 When I first made chicken crust pizza I wasn't sure what to expect. Chicken crust, whether made from ground or canned chicken, has a very neutral flavor and can be seasoned to suit your desired flavors. To keep cooking easy, this recipe incorporates canned chicken instead of ground chicken. The end result is a pliable crust suitable for any toppings combination.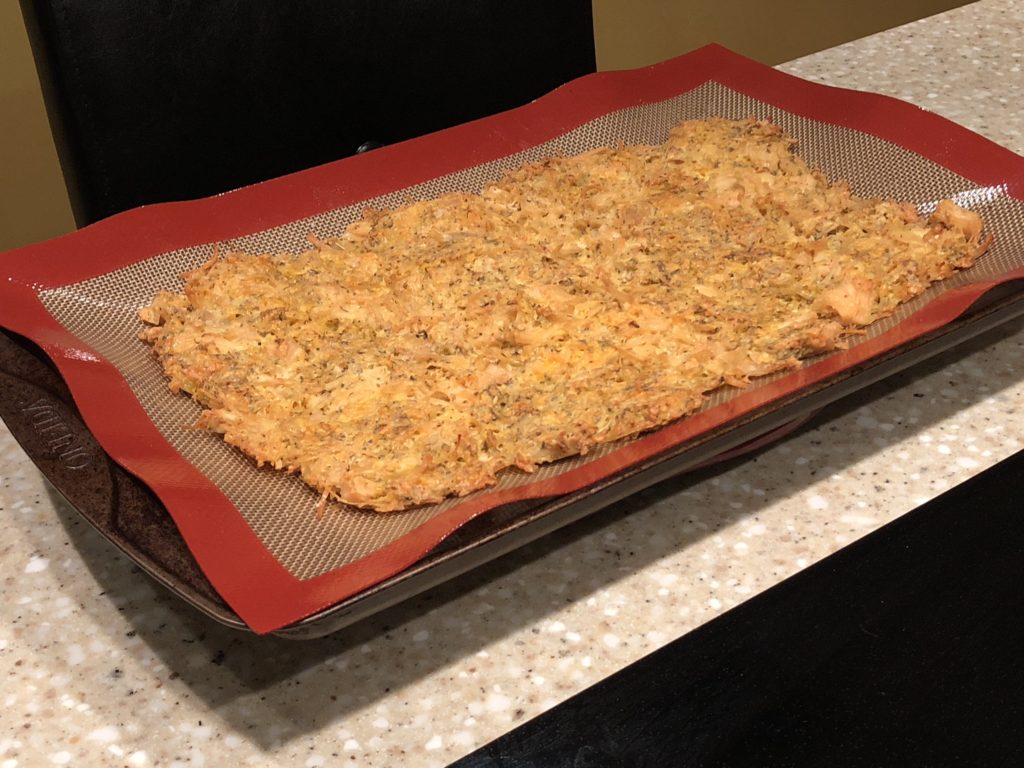 Canned Chicken?
Yes, canned chicken. I made it over 32 years on this earth before buying canned chicken; it just never appealed to me. But desperate times calls for desperate measures. After some quick research on the world wide web, I discovered that some brands of canned chicken are better than others, meaning some have unwanted additives.
So be mindful of ingredients when you're buying canned chicken. Often times you'll find starches and sugars, which are a no-no on any low carb diet. I usually buy Sam's Club store brand of canned chicken (Daily Chef is Sam's store brand). The ingredients are clean and the chicken is more flavorful than other brands I've tried.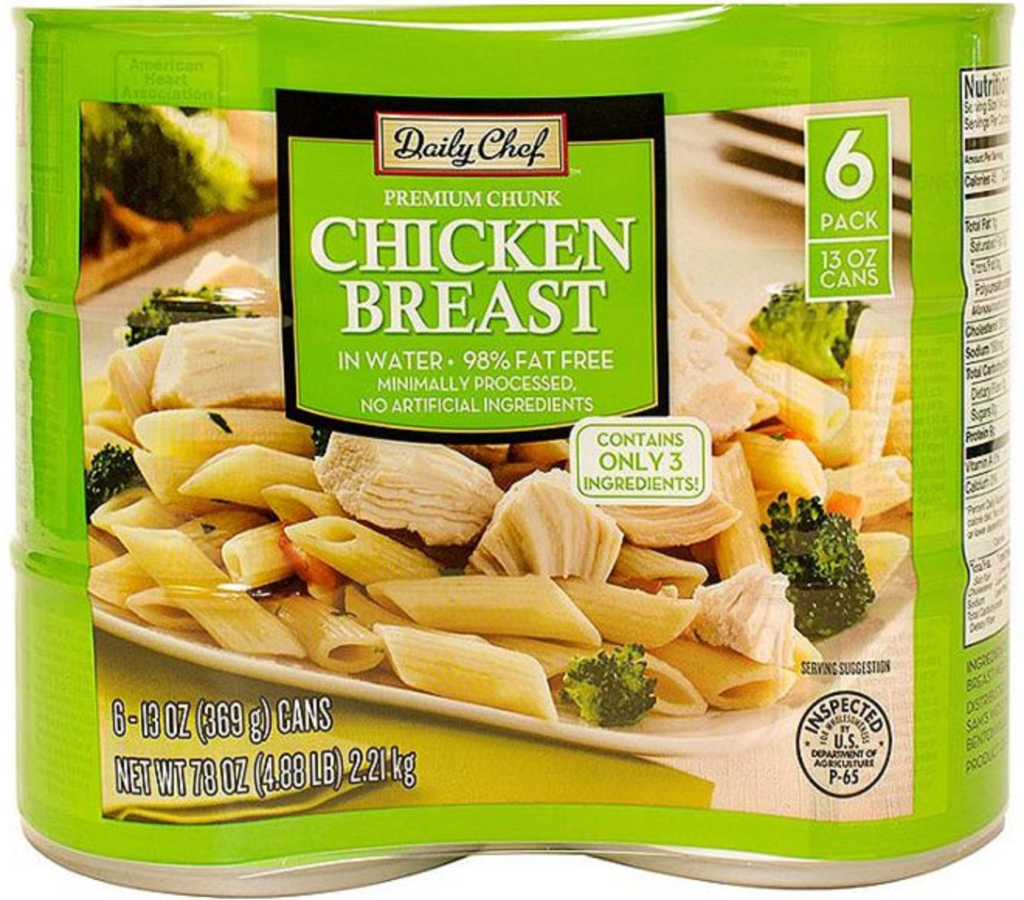 What About Sauce?
This recipe is about crust, but we all need marinara for our pizzas (or BBQ sauce, depending on what type of keto pizza recipe you're making). If you don't have the time to make your own sauce, I highly recommend Roa's Marinara sauce. It is a little pricy compared to the Ragus and Pregos, but is well worth it. Roa's Marinara is very low carb, with only 3 net carbs per ½ cup serving. Traditional marinara sauces pack anywhere from 8-20 (or more) net carbs per ½ cup serving.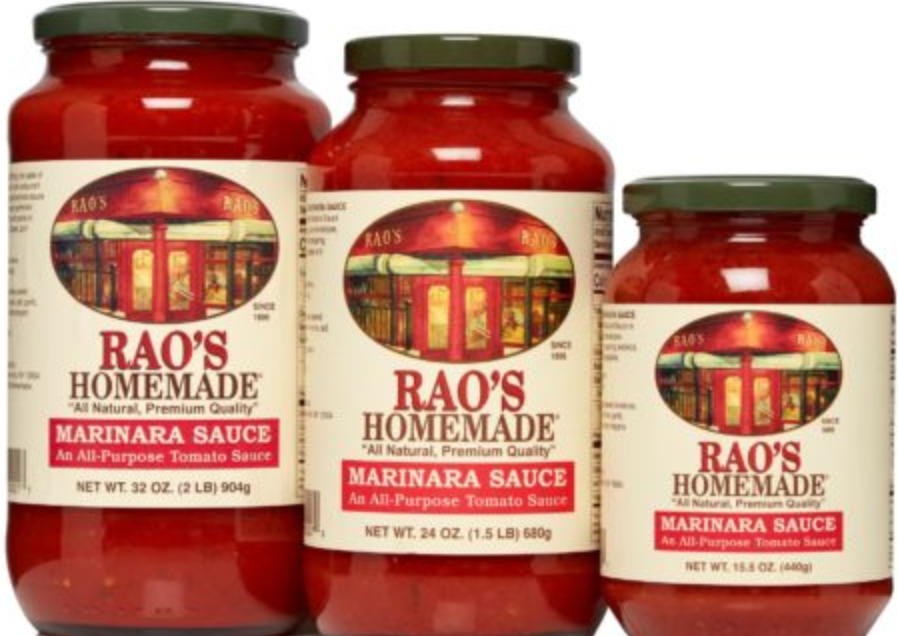 Too Much Protein?
This recipe is higher on protein than traditional keto recipes, so be sure to adjust your macros accordingly when making this recipe!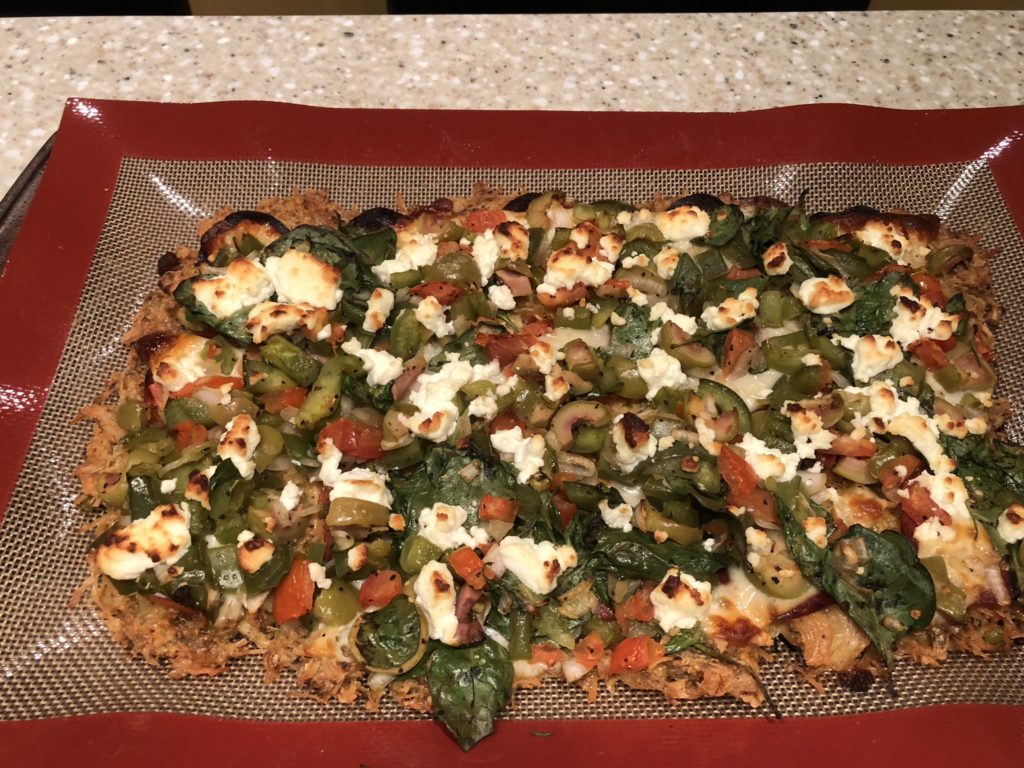 Nutrition Per Slice (8 Slices)
Calories: 211
Fat: 14.5g
Protein: 20.25
Carbs: 0g
Fiber: 0g
Net Carbs: 0g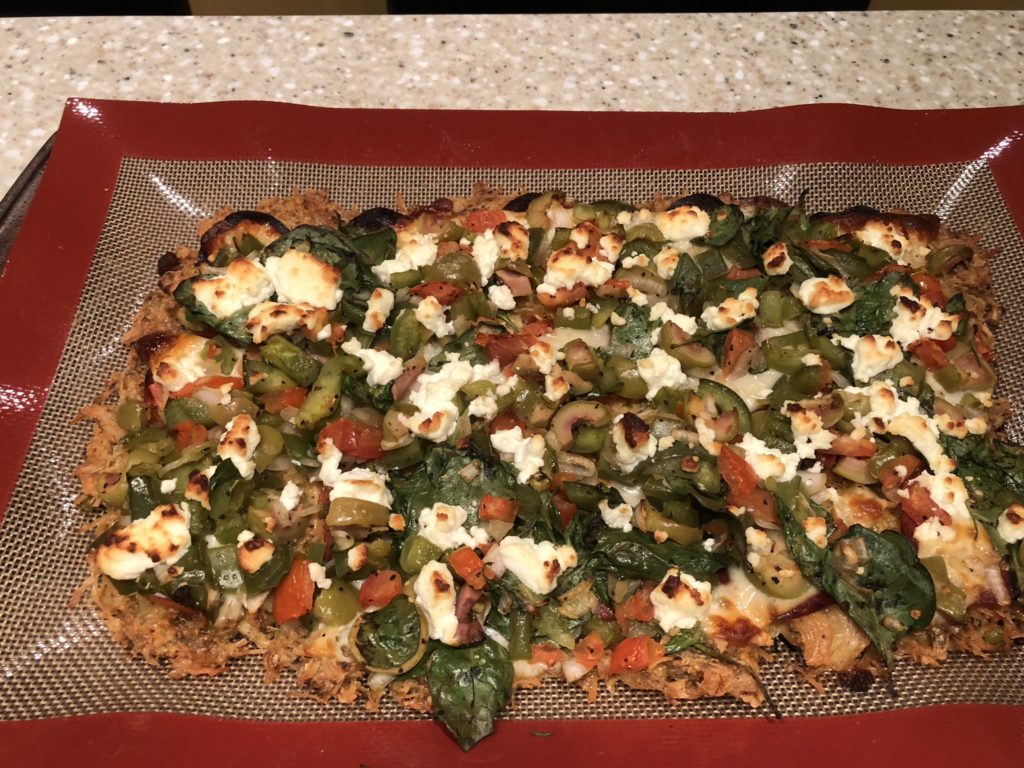 Full Keto Pizza Recipe Video

Never Miss A Recipe!
Join our email list to receive:
The latest keto recipes
Keto diet tips
Keto product reviews
Keto Pizza Ingredients On Amazon!
Amazon is the best place to find almost any thing you'll need when following a low-carb, ketogenic diet. Get a 30-day free trial of Amazon Prime here: Try Amazon Prime 30-Day Free Trial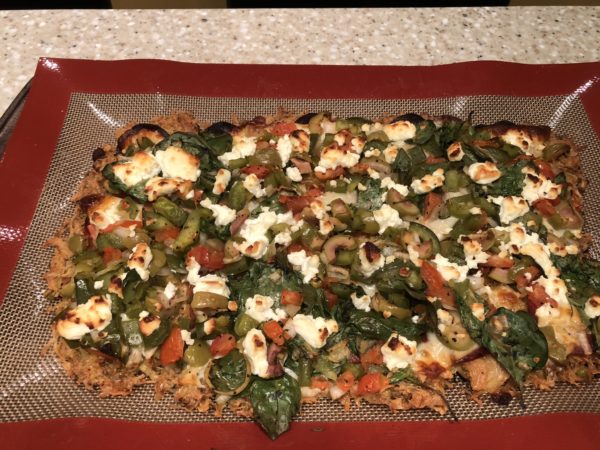 25

oz

canned chicken

2

large

eggs

1

cup

shredded cheddar cheese

3

tbsp

Italian seasoning

1/4

tsp

salt

1/4

tsp

pepper

1/4

cup

olive oil
25

oz

canned chicken

2

large

eggs

1

cup

shredded cheddar cheese

3

tbsp

Italian seasoning

1/4

tsp

salt

1/4

tsp

pepper

1/4

cup

olive oil
Open canned chicken and place in strainer; press firmly with spatula to press out as much liquid as possible (the dryer, the better!)

Once you've removed as much moisture as possible, distribute the chicken evenly on silicon baking mat (this will save you on cleanup time) and bake for 10 minutes at 400 degrees

Beat eggs; add cheese and seasonings

Combine chicken with other ingredients and mix

Spread chicken evenly onto baking sheet; crust thickness is about half an inch

bake about 20 minutes at 475 degrees

Remove pizza crust from the oven and brush with olive oil. Reduce oven heat to 425; add desired toppings and bake for another 7-12 minutes

Cut into 10 pieces. Enjoy!
Be sure to read labels on canned chicken - some companies add ingredients like starch or sugars (which have carbs). I prefer Member's Mark from Sams Club.